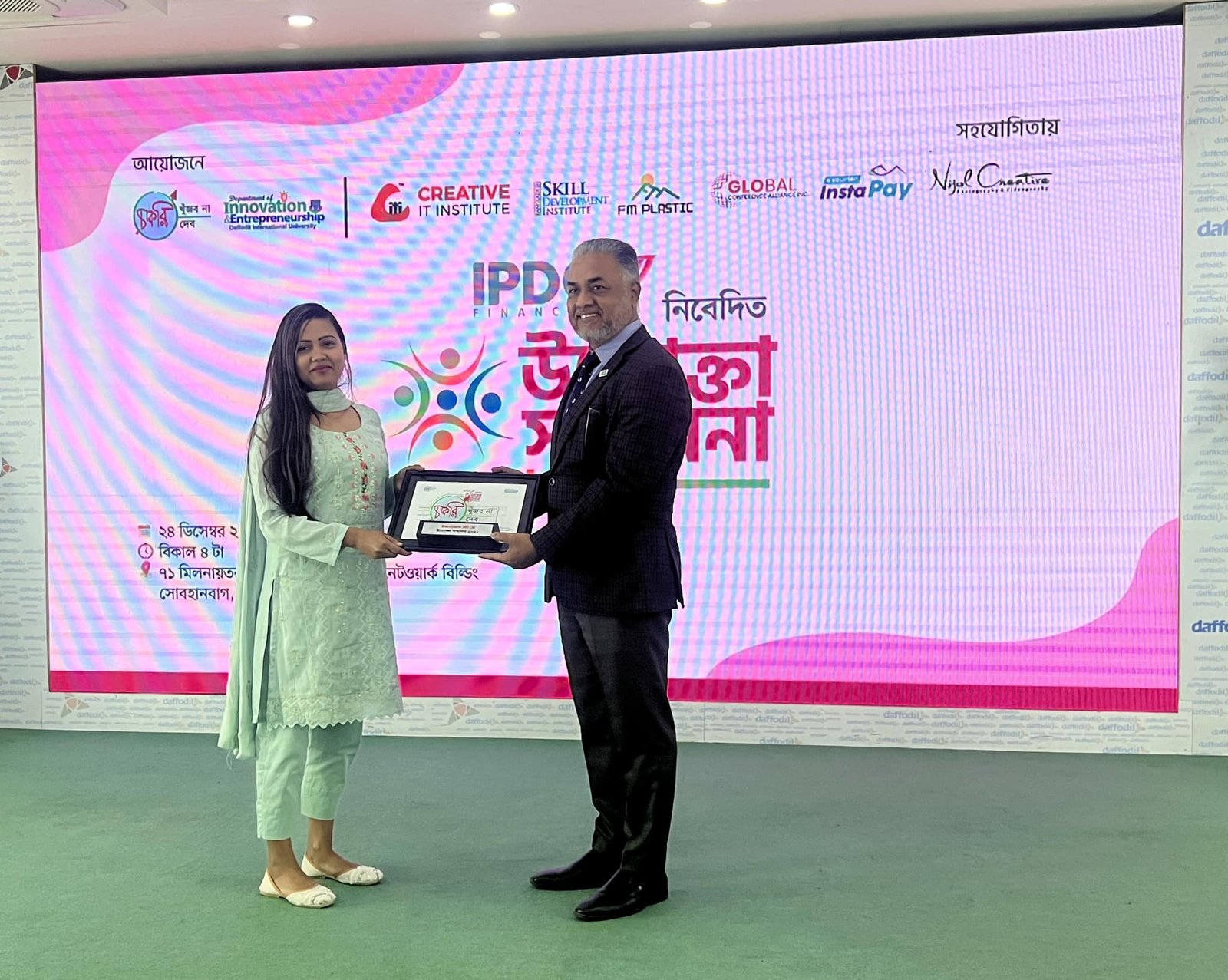 For the nearly 2.2 million youth who join the labor market every year, the job creation equation would become easier if a portion of them took the path of entrepreneurship instead of finding a job. Government and private joint ventures should smooth the way to creating entrepreneurs.
IPDC Entrepreneurship Awards 2021
To honor successful young entrepreneurs of 2021, the entrepreneurs and negotiators called for this at the "IPDC Entrepreneurship Awards 2021" event. The award ceremony was organized by the platform for developing youth entrepreneurship, Jhobi Chekhav Na, Jhobi Dev, and the Department of Innovation and Entrepreneurship at Daffodil International University.
In this award ceremony, which was organized for the ninth time, eight entrepreneurs were awarded the New Entrepreneur Memorial, nine entrepreneurs were awarded, and three were given special awards.
Crests and certificates were presented to the young entrepreneurs by Abu Hena Morshed Zaman, Secretary of the Implementation, Monitoring, and Evaluation Department of the Planning Ministry, Mofizur Rahman, Managing Director of the SME Foundation, and Chairman of the Daffodil Family. Sabur Khan and Group CEO Mohammad Nuruzzaman, IPDC Finance Additional Managing Director Rizwan Daud Sams, and SME Department HeadMahmudur Rahman.
Pakhi Jamdani Weaving Factory is known as Zamdani Ustad among the entrepreneurs. Jamal Hossain received the Yusuf Chowdhury Entrepreneur Award for 2021.

Shahjahan Jewel, the entrepreneur of Sylhet IT company Athlab, received the Nurul Quader Entrepreneurship Award, and Achia Khaleda, founder of Women in Digital, received the Luna Samsuddoha Women Entrepreneurship Award. Apart from this, entrepreneurs from Freshi Farm, Robust Research and Development, Banjan, Kadambari Exclusive, B. Basini, Friends Consultancy, Amra Pari Enterprises, and Saffron received the Young Entrepreneur Award.
The Entrepreneur Award for 2021 has been awarded to the entrepreneurs of Monsterclaw Limited, Giant Marketers, Innovation Garage, Dyna Host, Brandylane 360, Coders Lab, Sonia's Kitchen, Protein Market, and Al-Jamil's Grill Fish & Barbecue.
News Source: Prothom Alo